stylish home decor signs and plaques

These stylish home decor signs and plaques are an affordable accent to any room in your home.
We have lots of styles and color combinations to choose from!
We have both indoor and outdoor signs available for purchase, in addition to desktop plaques and photo holders.
Are you looking for a unique design or have a special color combination in mind? We can create something especially for you! If you have a special, non-copyright protected image or design you want us to use, we can accommodate your request. An additional design fee may apply. Maximum sign size is 12×12.
Have some fun and dress up your desk with these wooden desktop photo holders.
Featured here are love and wedding inspired designs but we have lots of styles to choose from!

Each plaque is hand sanded and stained or painted so that no 2 are exactly alike!
Made from solid wood and sprayed with a hard-coat finish, this item won't fade or chip under normal use.
                Mr. & Mrs. signs               Double-sided/dual purpose signs          Printed and framed signs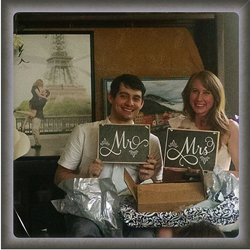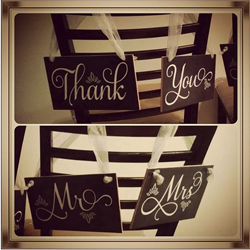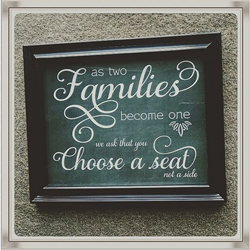 Because of the uniqueness of this item, price may vary so message us for an exact quote!

We ship anywhere in the continental United States!

Free pick up available at 2 locations in Illinois
VISIT US ON FACEBOOK
Tweet to us on TWITTER
Follow us on INSTAGRAM
Looking for unique furniture and decorative one-of-a-kind items? Check out these talented artisans at:
Painted & Hand-Crafted Furniture
328 S. Main St. Algonquin, IL. 60102
Call (815) 245-1802
Open Fridays 11:00am – 5:00pm
Open Saturdays and Sundays 11:00am – 4:00pm